Change the draw.io macro Viewer Settings in Confluence Cloud
You can change how your diagram appears in a Confluence Cloud page by changing the Viewer Settings.
Viewer Settings in the draw.io diagram editor
With nothing selected in your diagram, edit these Viewer Settings at the top of the Diagram tab in the format panel on the right.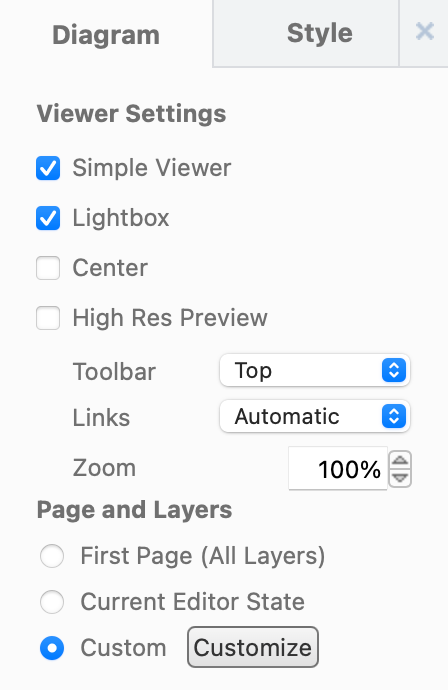 Simple Viewer: Enables or disables the Simple Viewer. Note: By default, the viewer toolbar will not be displayed when you hover over your diagram and links won't work in the Simple Viewer.
Lightbox: Enables or disables the draw.io Lightbox that by default appears when you click on a draw.io diagram in a page.
Center: Centers the diagram in the middle of the column in the Confluence page.
High Res Preview: Use a higher resolution image when viewing the Confluence page. Note that high resolution images may slow down the browser and editor.
Toolbar: Select one of three settings for the toolbar that appears when you hover over a diagram (Top or above the diagram, Embed at the top of the diagram, or Hidden)
Links: Select what happens when you click on a link in the diagram. This uses your browser settings by default (Automatic), but you can select to Open in New Window or Open in This Window.
Zoom: Resize the diagram on the Confluence page, limited to the width of the column that the diagram is in.
Page and Layers
First Page (All Layers): Displays the first diagram page and all layers (default).
Current Editor State: Displays whatever page you are looking at in the preview and hides any layers you have deselected.
Custom: Select the radio button, then click on Customize. Select the Page you want to display, then click on each Layer you want to display, then click OK.

Viewer Settings via the viewer toolbar
Hover over a diagram macro on your Confluence Cloud page and click on the Viewer Settings tool (a gear).
Choose the settings you want to use. You can also set the diagram macro to display a different page and layers.