draw.io Integrations
At draw.io, being open source means anyone can take the project, change it, deploy it and integrate it.
In fact, draw.io and our free online editor tool has already been integrated into a wide variety of platforms, and is available to be deployed as a self-hosted docker application, or used as a stand-alone private diagramming application.
Although the integrations may be branded under our diagrams.net and draw.io names, it's the same editor underneath.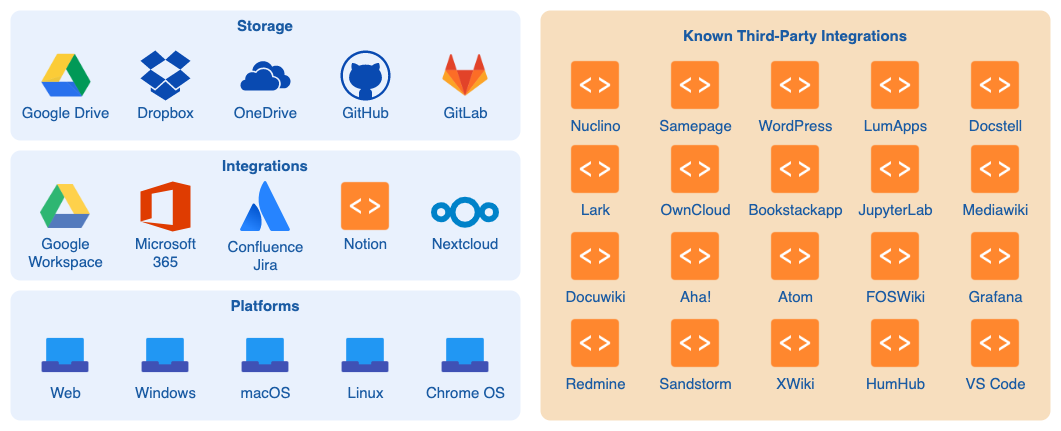 draw.io Desktop
draw.io desktop is a stand-alone, offline application available for Windows, macOS and Linux. This is ideal if you want the enhanced security of a desktop application with no reliance on an internet connection. Get the desktop app today
Online at app.diagrams.net
Create, edit and view diagrams using our free diagramming application online at app.diagrams.net. You can even use it as a diagram viewer for files created by another diagramming tool.
Mobile diagramming: Add a web link to app.diagrams.net on your mobile device's home screen to diagram on-the-go. The Minimal theme is great for mobile devices.
Flexible file storage: Store your diagrams where you need them - on Google Drive, OneDrive, GitHub, GitLab, Dropbox, or on your local device.
Self-hosted, secure, container-deployable
draw.io is designed to be easy to configure and fast to deploy in a container.
Google Workspace add-ons for Docs, Sheets and Slides
draw.io lets you store your diagram files in Google Drive and work with them in Google Workspace. There are also add-ons available for Docs, Sheets and Slides.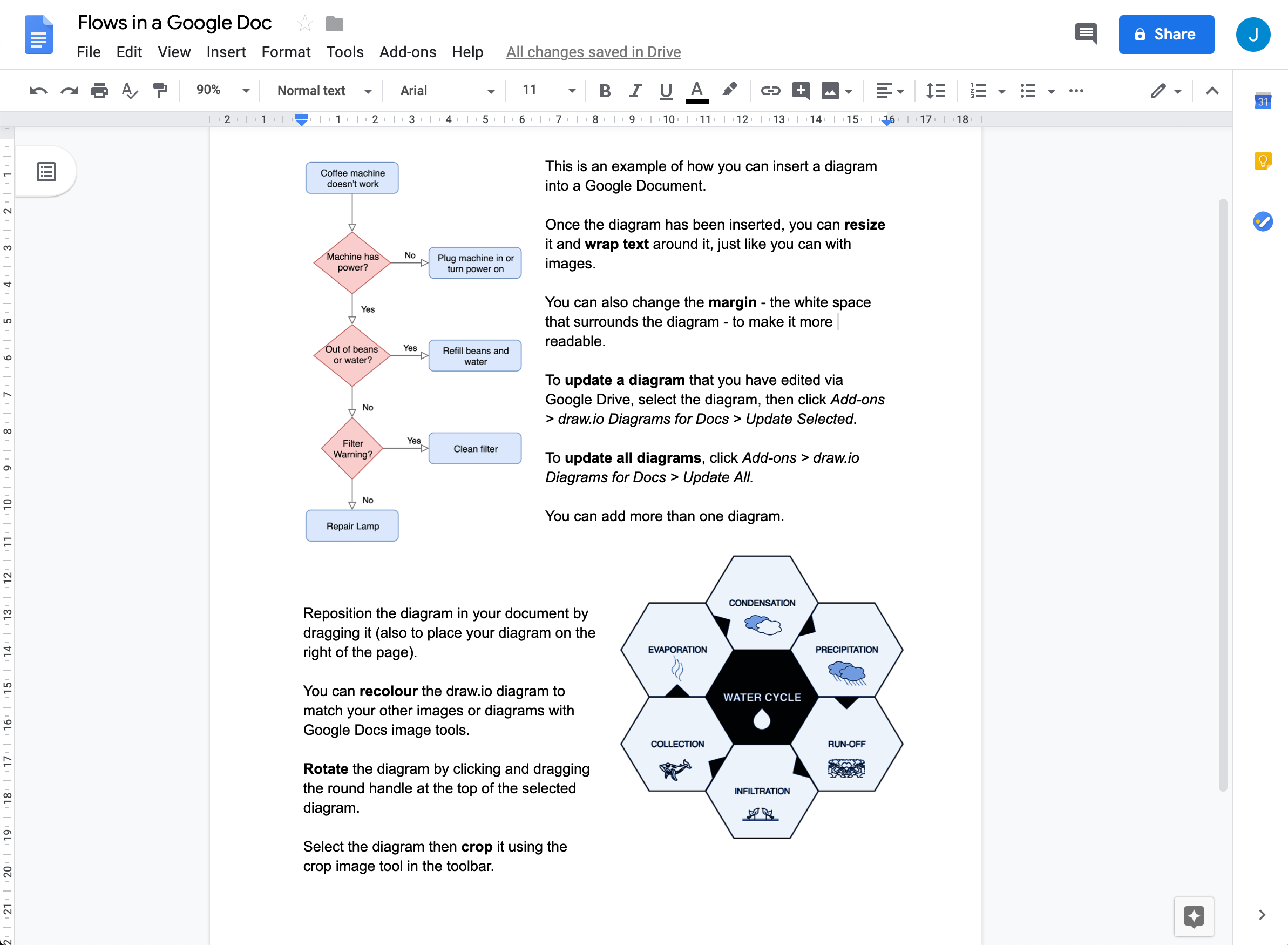 See how to use the draw.io add-ons for Google Workspace
Microsoft Sharepoint, OneDrive, Office 365 and Teams integrations
draw.io works with OneDrive and Sharepoint. An Office 365 app is available for Word, Powerpoint and Excel, and a Microsoft Teams app.
GitHub app
The draw.io app for GitHub lets you authorise access to individual repositories, and will replace the older OAuth authorisation method.
Notion and Nextcloud integrations
With the draw.io for Notion extension in the chrome web store, you can embed and edit diagrams directly within your Notion pages. This browser extension works in Google Chrome, Opera and Microsoft Edge.
The draw.io app for Nextcloud lets you create and edit diagrams in Nextcloud, including with shared cursors for real-time collaboration.
Atlassian Confluence and Jira
The draw.io apps for Confluence and Jira are available via the Atlassian Marketplace for Cloud, Data Centre and Server. draw.io for Confluence is the highest-rated app on the Atlassian Marketplace.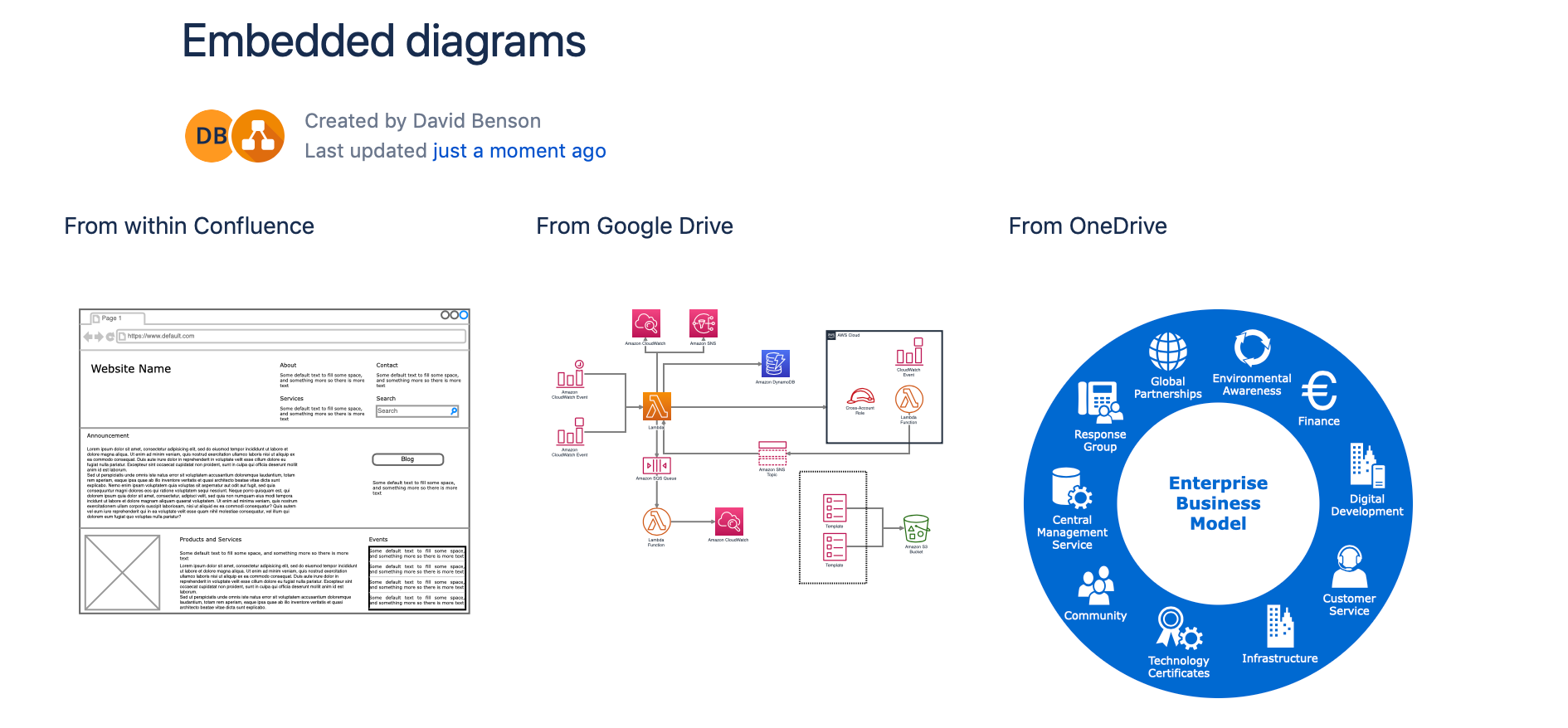 Enterprise file management support: Even if your company doesn't want to store diagrams inside the Confluence or Jira instance, you can take advantage of the app's integrations with Google Drive and Microsoft OneDrive.
Flexible customisation: By using draw.io within your Confluence and Jira environment, you can customise many aspects to make it easier for your employees to diagram: templates, shapes, shape libraries, colour palettes and style to match your corporate image, plugins, and even the user interface can be customised.
Easy migration: If you have many Gliffy and/or LucidChart OnPrem diagrams in your Confluence instances, you can convert all of these to draw.io diagrams with one click in the app administration section.
3rd-party integrations
The following integrations are not directly provided by the draw.io team.