Thanks for supporting draw.io in 2022
It was quite a year. We want to take this opportunity to thank you for your support, look back at some of the features we've added and updated.
To our diagram editor users
Whether you use our web-based draw.io app or one of our draw.io integrations, or our standalone desktop app, thank you for your support, feedback, and participation in our Google forum and GitHub discussions.
To our open-source contributors and sponsors
Also to our development and support team, translators, bug reporters, and open-source sponsors - we love that you love our secure diagramming app. Thank you for your support and contributions this year.
To those open-source projects and developers we sponsor
Particularly Henning Dieterichs (unofficial draw.io extension for VSCode), Preet (rough style for shapes) and Dan Brown, but we'd like to thank all those we sponsor for your contributions to the open-source community and our application.
New features and updates in 2022
The biggest and most recent new draw.io feature is our redesigned toolbar and menu for a distraction-free diagram editor.
The new simple mode takes the best parts of all of our editor themes and blends them together with a simple, responsive toolbar and large drawing canvas. To switch to this mode, click on the sun/moon in the top right, and select Simple.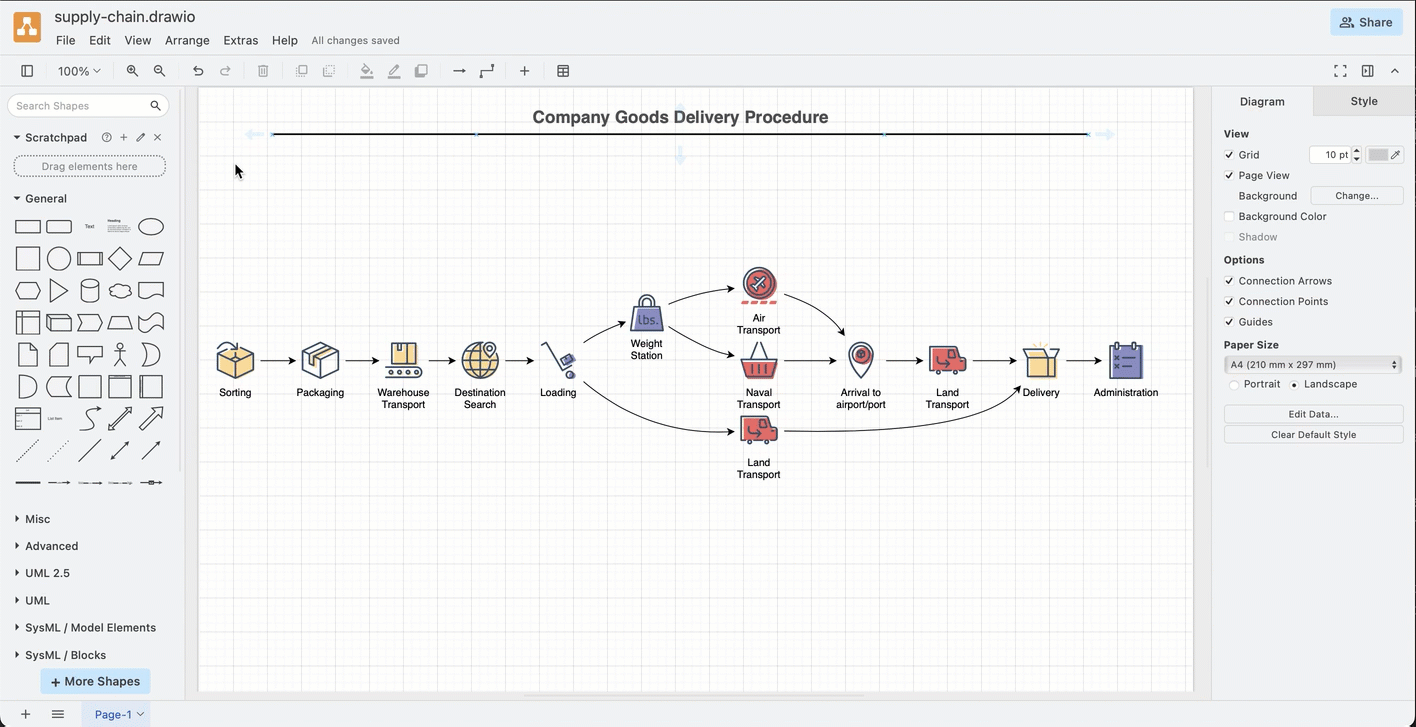 draw.io users in Confluence Server/Data Center can apply a sensitive label to exclude diagrams from recent lists and search.

draw.io users in Confluence, and with Google Drive and Microsoft One Drive can see each others' mouse cursors in real time as they collaboratively edit a diagram.


Improvements were made to the mass Gliffy import and Confluence instance migration tools for draw.io users.

Shape libraries have been expanded and updated with new icons - particularly the Azure, AWS, Google Cloud and SysML shape libraries.

You can add and edit translations within the shape labels as shape metadata - no need to keep separate diagrams for separate languages.


The editor was translated into new languages - Lithuanian and Latvian.

Switch between dark and light modes without having to reload the browser tab - click on the sun/moon in the top right and select Dark.

A connection point editor tool was added - you can now easily customise the fixed connection points for any shape on the drawing canvas.


Swap existing shapes on the drawing canvas by holding down Shift as you drag one over the other. Flip connectors and groups of shapes via the Arrange tab on the format panel.

Number shapes and connectors with the built-in enumerate property (to replace the number plugin).

To run your own diagramming server, you can use our Docker image of draw.io for secure and private diagramming behind your firewall.

Several advanced tools and features were updated, including Mermaid import, mathematics typesetting, rough style, CSV import, image cropping, font mapping, SVG export, drag and drop diagram import, and more.

More integrations with a wider range of tools for built-in diagramming - thanks to the developers who have integrated our open-source diagram editor.
And, of course, our team also published a mountain of bug fixes, security patches and smaller optimisation changes to both the web version of draw.io and our own draw.io app integrations.