Use your favourite location or platform to save your diagram files
As draw.io does not store your diagram data, you need to select a location to store your diagram files. With an increasing number of cloud storage and Git platforms, as well as your browser and local device, we've streamlined the location selection to a drop down list.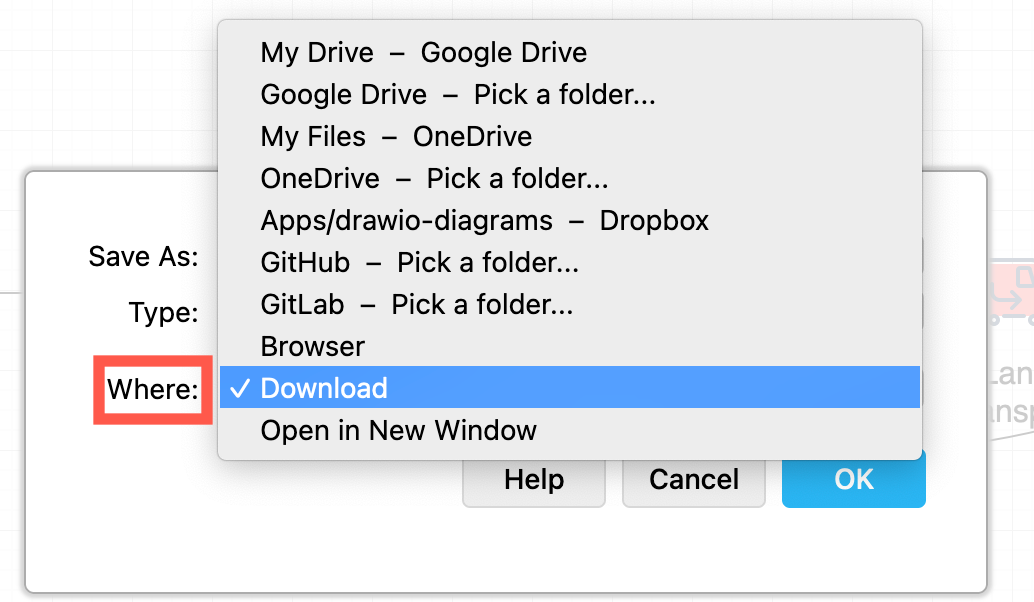 When you have saved your diagram once to a cloud platform or directly in your browser, draw.io will autosave the file whenever you edit your diagram. This adds a new version to the revision history in Google Drive, if you have selected this location.
Tip: Typically, draw.io will remember the cloud storage folder where you last stored a diagram file and use that location for a new diagram file.
To choose a different location on that platform, select any of the options with Pick a folder.
Choose a location for your diagram files
With draw.io, your diagram files aren't locked behind any account - choose whichever file storage location suits you best.
In the draw.io menu, select File > Save As, or press Ctrl+Shift+S (Cmd+Shift+S on macOS), or click on the Unsaved changes notification in the toolbar.

Enter a name for your diagram file.

Choose the file format (Type) you wish to save your diagram as as - by default it will use the .drawio extension and XML format. All of these formats will contain your diagram data so they can be re-opened in the draw.io editor.

Select a location from the drop down list.

You may need to authorise draw.io so that it can save the diagram file into your selected cloud storage account. See how to authorise draw.io to use the following platforms:
Click OK to save the file, if it hasn't already saved during the Authorisation process.
Save or export your diagram?
Save your diagram to include the diagram data.
You can use a .drawio XML file, PNG or SVG image, or a HTML file and your diagram data will be saved within that file so you can open it again in the draw.io editor and continue diagramming.
Export your diagram with or without embedding the diagram data.
The export file formats can contain the diagram data, if you use a compatible format, but you can disable this option. This is useful when you want to share your diagram, but not allow the recipient to open a copy and edit it.
When you export to a pure image file (PNG, JPEG, SVG, WebP), or PDF file, your diagram will be displayed as a single image shape if re-opened in the draw.io editor.